Happy Black Friday! If you aren't shopping (God bless you

I can't even), then check out these great posts from the blogosphere the past 2 weeks.

I hope you find something interesting, exciting, and thought-provoking in the posts below!
-xoxo Becca
1. The Third Chimpanzee by Jared Diamond @ Doing Dewey
"In addition to the obvious topical connection, this was the perfect book for Darwin Day because of the author's dedication to answering even potentially touchy questions with science."
2. Food Whore by Jessica Tom @ Traveling with T
"The world of food is seductive. Remember that folks."
3. Icefields by Thomas Wharton @ Consum

ed By Ink
"

Although there are some interesting historical connections to be made, one thing I found frustrating was that it was hard to tell what was based on fact and what was pure fiction."
4. The Edge of Lost by Kristina McMorris @ Jenn's Bookshelves
"Obsessed with the history of Alcatraz myself, I was thrilled to see that she stayed true to the actual history of island, honoring it for its rich and powerful past."
5. The Night Parade by Kathryn Tanquary @ The Narrative Causality
"I was initially drawn to this story as it dealt with Japanese culture and mythology, and it was set in Japan. I am very glad I read this book as it was one of the most delightful and enchanting reads I have had in a very long time. The story reminded me of old fashioned adventure stories where children go to mythical lands and learn valuable lessons."
6. The Penguin Lessons: What I Learned From a Remarkable Bird by Tom Michell @ Capricious Read

er
"Now really. Is there a better way to learn some history about a time

period and place you know little about?"
7. Instructions for the End of the World by Jamie Kain @ It Starts at Midnight
"Speaking of, as I made notes on my Kindle, I called the dad "Daddy Douchecanoe" because that is what he was, and it was fun to find them while writing my review. Some examples? Sure!"
8. We That Are Left by Clare Clark @ A Girl that Lik

es Books
"I enjoyed the idea of knowing where the story was going to end, but not how we got there. This is a perfect example where is not the destination, but the way there that matters."
9. Avenue of Mysteries by John Irving @ 52 Books or Bust
"So while Avenue of Mysteries is readily identifiable as Irving, it is not my favorite Irving."
UPCOMING/CURRENT EVENTS:
There's still a few days to participate in Thankfully Reading Weekend
Hosted by Jenn's Bookshelves
Christmas Spirit Read-a-Thon @ Seasons of Reading
Hosted by The True Book Addict
Emma Read-Along @ Dolce Bellezza
A Month of Favorites with Girlxoxo, Estella's Revenge, & Traveling with T
MORE CURRENT EVENTS:
Book Blogger Community Calendar
WIN! GIVEAWAYS!
The Shelf: Adventures in Extreme Reading by Phyllis Rose
@ Roof Beam Reader
Ends Nov. 30th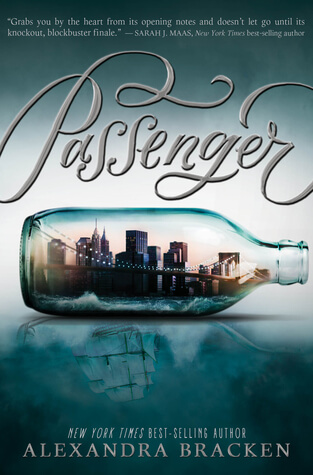 Passenger by Alexandra Bracken
@ It Starts at Midnight
Ends Dec. 6th
Tiny Beautiful Things by Cheryl Strayed
@ Love, Laughter, Insanity
Ends Nov. 28th
The Restoration of Otto Laird by Nigel Packer
@ Luxury Reading
Ends Dec. 7th
A Dictionary of Mutual Understanding by Jackie Copleton
@ Luxury Reading
Ends Dec. 8th
Lucky Shot by B.J. Daniels
@ Freda's Voice
Ends Dec. 8th
Not After Everything by Michelle Levy
@ The Hiding Spot
Ends Dec. 3rd
If You're Lucky by Yvonne Prinz
@ Beth Fish Reads
Ends Dec. 4th
Top Commenters of the Week are in Bold.
Amy Brandon
Andi
AnneBennett
booknaround
Bryan G. Robinson
Care
Carrie Butler Becker
Caspette
Debbie Stone
Fictional 100/Lucy
Freda
guiltless reading
Holly @ guninactone
JoAnn @ Lakeside Musing
Katherine P.
Kathy (Bermudaonion)
Kim Bramson
Kim (Sophisticated Dorkiness)
Kim @ Time2Read
Laura Roberts
Lory @ Emerald City Book Review
Louise
Michelle (That's What She Read)
Naomi
Running 'N' Reading
Sarah (Sarah's Book Shelves)
Shannon @ River City Reading
Tasha
Ti Reed
TJ @ My Book Strings
Trish
Thank you for leaving me comments
!
I appreciate it so much!
2015 COMMENTER LEADERBOARD SO FAR
The top six (6) winners at the end of the year will receive fun bookish swag! The top two (2) winners will receive a paperback book from Indiebound or The Book Depository! Just my way of showing my appreciation!
1. Freda Mans
2.

Bermudaonion (Kathy)




3. Tasha B.




4.

Michelle @ That's What She Read
5. Belle Wong
6
. Sarah's Book Shelves
YOU! Could be on this list and win for 2015!
Leave comments, win prizes as thanks!
Which posts/links are you going to/did you visit?