TGIF! It's time to celebrate your blogs with some shout-outs!

If you're new to shout-outs, I like to feature book reviews and bookish posts that entertained and enlightened me this week in the blogosphere. Plus, check out upcoming events and current giveaways going on in the community.

Please let me know what links you visited/are visiting in the list! The links all open in a new window so you can visit them and then come back to visit more places. Be sure to consider leaving love wherever you visit!

-xoxo Becca



ENTERTAINING BOOK REVIEWS: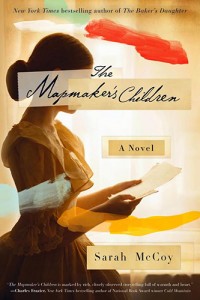 1. The Mapmaker's Children by Sarah McCoy @ Books in the Burbs
(plus giveaway)
2. Five Things You Should Know About Antibiotics: A Review of 10% Human by Alanna Collen @ Doing Dewey
3. Why 'Disclaimer' Didn't Resonate With Me @ Ms. Bookish
4. Once Upon a Time IX: Mini Reviews @ A Girl that Likes Books
5. Our Endless Numbered Days by Claire Fuller @ Sarah's Book Shelves
6. The River's Song by Suchen Christine Lim @ 52 Books or Bust
7. The Silver Witch by Paula Brackston @ That's What She Read
8. Balm by Dolen Perkins-Valdez @ A Bookish Way of Life
9. The Travels of Daniel Ascher by Deborah Levy-Bertherat @ The Daily Dosage
10. Five True Stories I Would Definitely Recommend @ Sophisticated Dorkiness
11. More Happy Than Not by Adam Silvera @ The Social Potato
UPCOMING/CURRENT EVENTS:
This month at Book Bloggers International bloggers are interviewing each other. I'm loving getting to know each blogger better!
Care is hosting the #MiseryRAL so follow on Twitter with this hashtag!
And be sure to check out this post where she writes a poem for the readalong!
June's readalong for #TraveltheWorldinBooks is
The Forgotten Garden by Kate Morton.
Follow along with the hashtag on Twitter and discussions on the Goodreads group.
The Estella Project
- go forth and read the top voted books.
Austen in August
WIN! GIVEAWAYS!
Click on photos to go to the giveaway link.


Box 'o Books for Blogoversary at Anna's Book Blog
Of Stacks and Cups is giving away a book from Book Depository.
MY COMMENTERS ROCK!
Belle Wong
Bermudaonion (Kathy)
Bridgetanachronist
Caro G
Charlene @ Bookish Whimsy
Debi
Fictional 100/Lucy
Freda Mans
Guiltless Reading
Jennine G.
Jo Ann @ Lakeside Musing
Katherine P.
Kayla Beck
Louise
Melinda @ The Book Musings
Mia Sutton
Michelle @ That's What She Read
Reading Wench
Sarah's Book Shelves
Shannon @ It Starts at Midnight
Soudha Pars

an
Sue Jackson
Tanya M.
Ti Reed
Tif Talks Books
TJ @ My Book Strings

Thank you for leaving me comments this week!
I appreciate it so much!
2015 COMMENTER LEADERBOARD
NEW! Top Commenters of the Month
JUNE

??
Top Commenters So Far for 2015
The top six (6) winners at the end of the year will receive bookish swag!
The top (1) winner will receive a paperback book from Indiebound or The Book Depository!
(Possibly more, will know closer to end of year.)
Just my way of showing my appreciation!

1. Freda Mans
2.
Bermudaonion (Kathy)
3. Belle Wong
4. Tasha B.
5.
Sarah's Book Shelves
6. Ryan

YOU! Could be on this list and win for 2015!
Leave comments, win prizes as thanks!