Not many of us have the funds to go visit literary destinations overseas, so here are some literary places closer to home that you can hopefully visit much easier. I tried to get some all across the U.S. so no one is left out!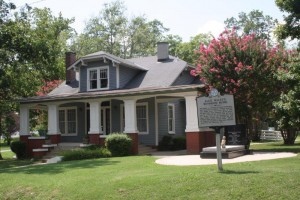 What:
Alex Haley Museum
Why: Pulitzer-Prize winner's home from 1921 to 1929, restored
Where: Henning, Tennessee
More info:
http://www.alex-haley.com/alex_haley_museum.htm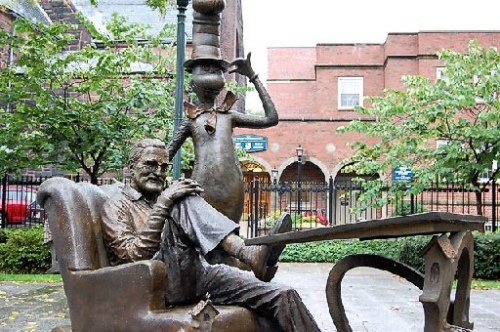 What:
Dr. Seuss National Memorial Sculpture Garden
Why: Dr. Seuss' stepdaughter created the bronze sculptures shown here which feature Cat in the Hat, the Lorax, the Grinch, Horton the Elephant, and more.
Where: Springfield, MA
More info:
http://www.catinthehat.org/memorial.htm
What:
The Mount
Why: Edith Wharton's home where she invited many distinguished guests to stay from Henry James to Theodore Roosevelt. Built to overlook Laurel Lake, it was also a working farm and the whole place was designed by Wharton herself. They have many events.
Where: Lenox, MA
More info:
http://www.edithwharton.org/
What:
The Shire of Montana
Why: Can't get to New Zealand? Perhaps you can get to Montana's Hobbit House where you can lodge. I mean, who doesn't want to stay in a Hobbit House, I ask you!
Where: Trout Creek, Montana
More info:
http://theshireofmontana.com/
What:
John's Grill
Why: The setting in
The Maltese Falcon
, declared a landmark in 1997. Famous patrons include Sophia Loren, Johnny Depp, Alfred Hitchcock, Truman Capote, Joe Montana, Julia Child, Lauren Bacall, and Shirley Temple.
Where: San Francisco, CA
More info:
http://www.johnsgrill.com/
What:
Mark Twain's Boyhood Home and Museum
Why: This town was the setting for
The Adventures of Tom Sawyer
and
The Adventures of Huckleberry Finn
. Visit Twain's boyhood home as well as Huck Finn's home, Becky Thatcher's house, the Tom & Huck Statue, and more.
Where: Hannibal, Missouri
More info:
http://www.marktwainmuseum.org/
What:
Margaret Mitchell House
Why: You're a
Gone with the Wind
fan, clearly.
Where: Atlanta, GA
More info:
http://www.atlantahistorycenter.com/mmh
What:
Kurt Vonnegut Memorial Library
Why: Perfect photo op sitting at Vonnegut's typewriter, browse first editions and signed editions of Vonnegut's novels, check out Vonnegut's drawings and doodles, and there is Vonnegut apparel in the gift shop. The library also carries on Vonnegut's work against censorship.
Where: Indianapolis, Indiana
More info:
http://www.vonnegutlibrary.org/
What:
Edgar Allan Poe's Memorial Grave
Why: What better way to pay your respects to the king of macabre than to visit his final resting place?
Where: Baltimore, Maryland
More info:
http://www.eapoe.org/balt/poegrave.htm
What:
Sleepy Hollow Cemetery
Why: While you're on the East Coast visiting Poe, why not head north and check out Sleepy Hollow Cemetery? Spooktacular.
Where: Sleepy Hollow, NY
More info:
http://www.sleepyhollowcemetery.org/
Fun Fact: There is also a Sleepy Hollow cemetery in Concord, MA, which contains the graves of Ralph Waldo Emerson, Louisa May Alcott, Nathaniel Hawthorne, and Henry David Thoreau. Info:
http://www.concordnet.org/pages/ConcordMA_Cemetery/sleepy
What:
Harry Ransom Center at The University of Texas in Austin
Why: This archive, library, and museum contains over 40 million literary transcripts, photographs, rare books, film stills, and works of art. They have Shakespeare's First Folio of his plays, and have manuscripts of James Joyce, William S. Burroughs, Wilkie Collins, J.D. Salinger, Henry Wadsworth Longfellow, Vladimir Nobokov, and many more. They also have exhibits several times a year and events every month.
Where: Austin, TX
More info:
http://www.hrc.utexas.edu/
What:
Hemingway's Home
Why: Hemingway. Books. Architecture. Gardens. Six-toed cats. Very low rates. Enough said.
Where: Key West, Florida
More info:
http://www.hemingwayhome.com/
Which literary destination is near to you? Which one(s) do you hope to visit?
What literary destinations have you been to and recommend?