Today's topic is top 10 new series (from the last 2-3 years) that we would like to start.
Here are my top 10:
Milo 2.0 by Debra Driza (Mila 2.0 Series)
Mila 2.0
is the first book in an electrifying sci-fi thriller series about a teenage girl who discovers that she is an experiment in artificial intelligence.
Mila was never meant to learn the truth about her identity. She was a girl living with her mother in a small Minnesota town. She was supposed to forget her past—that she was built in a secret computer science lab and programmed to do things real people would never do.
Now she has no choice but to run—from the dangerous operatives who want her terminated because she knows too much and from a mysterious group that wants to capture her alive and unlock her advanced technology. However, what Mila's becoming is beyond anyone's imagination, including her own, and it just might save her life.
Mila 2.0
is Debra Driza's bold debut and the first book in a Bourne Identity-style trilogy that combines heart-pounding action with a riveting exploration of what it really means to be human. Fans of
I Am Number Four
will love Mila for who she is and what she longs to be—and a cliffhanger ending will leave them breathlessly awaiting the sequel.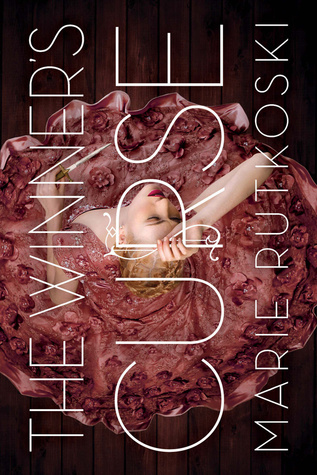 The Winner's Curse by Marie Rutkoski (The Winner's Trilogy)
As a general's daughter in a vast empire that revels in war and enslaves those it conquers, seventeen-year-old Kestrel has two choices: she can join the military or get married. But Kestrel has other intentions.
One day, she is startled to find a kindred spirit in a young slave up for auction. Arin's eyes seem to defy everything and everyone. Following her instinct, Kestrel buys him—with unexpected consequences. It's not long before she has to hide her growing love for Arin.
But he, too, has a secret, and Kestrel quickly learns that the price she paid for a fellow human is much higher than she ever could have imagined.
Set in a richly imagined new world,
The Winner's Curse
by Marie Rutkoski is a story of deadly games where everything is at stake, and the gamble is whether you will keep your head or lose your heart.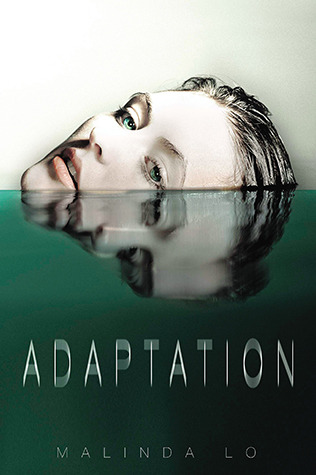 Adaptation by Malinda Lo (Adaptation Series)
Reese can't remember anything from the time between the accident and the day she woke up almost a month later. She only knows one thing: She's different now.
Across North America, flocks of birds hurl themselves into airplanes, causing at least a dozen to crash. Thousands of people die. Fearing terrorism, the United States government grounds all flights, and millions of travelers are stranded.
Reese and her debate team partner and longtime crush David are in Arizona when it happens. Everyone knows the world will never be the same. On their drive home to San Francisco, along a stretch of empty highway at night in the middle of Nevada, a bird flies into their headlights. The car flips over. When they wake up in a military hospital, the doctor won't tell them what happened, where they are—or how they've been miraculously healed.
Things become even stranger when Reese returns home. San Francisco feels like a different place with police enforcing curfew, hazmat teams collecting dead birds, and a strange presence that seems to be following her. When Reese unexpectedly collides with the beautiful Amber Gray, her search for the truth is forced in an entirely new direction—and threatens to expose a vast global conspiracy that the government has worked for decades to keep secret.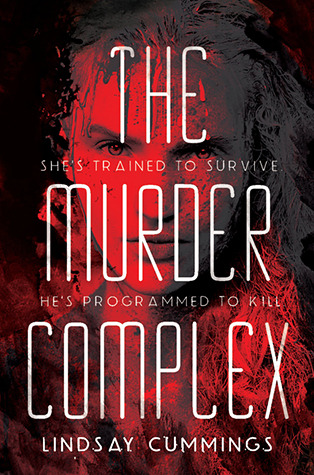 The Murder Complex by Lindsay Cummings (The Murder Complex Series)
An action-packed, blood-soaked, futuristic debut thriller set in a world where the murder rate is higher than the birthrate. For fans of Moira Young's Dust Lands series, La Femme Nikita, and the movie Hanna.
Meadow Woodson, a fifteen-year-old girl who has been trained by her father to fight, to kill, and to survive in any situation, lives with her family on a houseboat in Florida. The state is controlled by The Murder Complex, an organization that tracks the population with precision.
The plot starts to thicken when Meadow meets Zephyr James, who is—although he doesn't know it—one of the MC's programmed assassins. Is their meeting a coincidence? Destiny? Or part of a terrifying strategy? And will Zephyr keep Meadow from discovering the haunting truth about her family?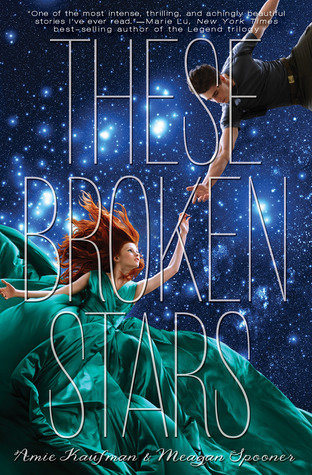 These Broken Stars by Amie Kaufman (Starbound Series)
It's a night like any other on board the Icarus. Then, catastrophe strikes: the massive luxury spaceliner is yanked out of hyperspace and plummets into the nearest planet. Lilac LaRoux and Tarver Merendsen survive. And they seem to be alone.
Lilac is the daughter of the richest man in the universe. Tarver comes from nothing, a young war hero who learned long ago that girls like Lilac are more trouble than they're worth. But with only each other to rely on, Lilac and Tarver must work together, making a tortuous journey across the eerie, deserted terrain to seek help.
Then, against all odds, Lilac and Tarver find a strange blessing in the tragedy that has thrown them into each other's arms. Without the hope of a future together in their own world, they begin to wonder—would they be better off staying here forever?
Everything changes when they uncover the truth behind the chilling whispers that haunt their every step. Lilac and Tarver may find a way off this planet. But they won't be the same people who landed on it.
--
A timeless love story,
These Broken Stars
sets into motion a sweeping science fiction series of companion novels. The Starbound Trilogy: Three worlds. Three love stories. One enemy.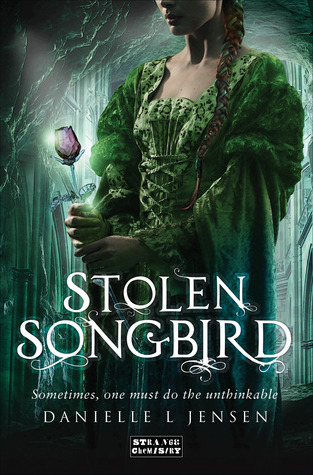 Stolen Songbird by Danielle L. Jensen (The Malediction Trilogy)
For five centuries, a witch's curse has bound the trolls to their city beneath the ruins of Forsaken Mountain. Time enough for their dark and nefarious magic to fade from human memory and into myth. But a prophesy has been spoken of a union with the power to set the trolls free, and when Cécile de Troyes is kidnapped and taken beneath the mountain, she learns there is far more to the myth of the trolls than she could have imagined.
Cécile has only one thing on her mind after she is brought to Trollus: escape. Only the trolls are clever, fast, and inhumanly strong. She will have to bide her time, wait for the perfect opportunity.
But something unexpected happens while she's waiting – she begins to fall for the enigmatic troll prince to whom she has been bonded and married. She begins to make friends. And she begins to see that she may be the only hope for the half-bloods – part troll, part human creatures who are slaves to the full-blooded trolls. There is a rebellion brewing. And her prince, Tristan, the future king, is its secret leader.
As Cécile becomes involved in the intricate political games of Trollus, she becomes more than a farmer's daughter. She becomes a princess, the hope of a people, and a witch with magic powerful enough to change Trollus forever.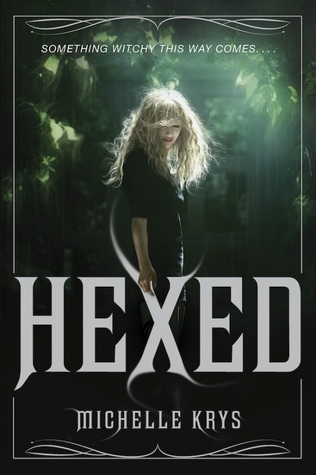 Hexed by Michelle Kays (The Witch Hunter Series)
If high school is all about social status, Indigo Blackwood has it made. Sure, her quirky mom owns an occult shop, and a nerd just won't stop trying to be her friend, but Indie is a popular cheerleader with a football-star boyfriend and a social circle powerful enough to ruin everyone at school. Who wouldn't want to be her?
Then a guy dies right before her eyes. And the dusty old family Bible her mom is freakishly possessive of is stolen. But it's when a frustratingly sexy stranger named Bishop enters Indie's world that she learns her destiny involves a lot more than pom-poms and parties. If she doesn't get the Bible back, every witch on the planet will die. And that's seriously bad news for Indie, because according to Bishop, she's a witch too.
Suddenly forced into a centuries-old war between witches and sorcerers, Indie's about to uncover the many dark truths about her life—and a future unlike any she ever imagined on top of the cheer pyramid.
Red Rising by Pierce Brown (Red Rising Trilogy)
Darrow is a Helldiver, one of a thousand men and women who live in the vast caves beneath the surface of Mars, generations of people who spend their lives toiling to mine the precious elements that will allow the planet to be terraformed. Just knowing that, one day, people will be able to walk the surface of the planet is enough to justify their sacrifice. The Earth is dying, and Darrow and his people are the only hope humanity has left.
Until the day Darrow learns that it is all a lie. That Mars has been habitable - and inhabited - for generations, by a class of people calling themselves the Golds. A class of people who look down at Darrow and his fellows as slave labour, to be exploited and worked to death without a second thought.
Until the day Darrow, with the help of a mysterious group of rebels, disguises himself as a Gold and infiltrates their command school, intent on taking down his oppressors from the inside.
But the command school is a battlefield - and Darrow isn't the only student with an agenda.
Ender's Game meets The Hunger Games in this, the first in an extraordinary trilogy from an incredible new voice.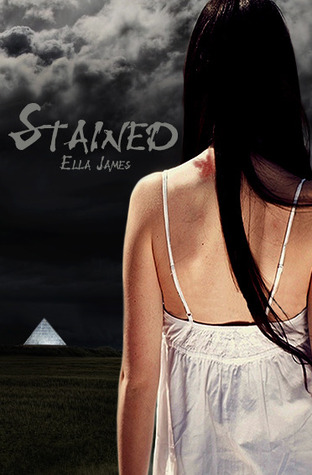 Stained by Ella James (Stained Series)
After a fire destroys seventeen-year-old Julia's home and kills her foster parents, she chases the half-demon responsible across the country and back, determined to avenge her family and discover why a host of celestial baddies want her dead. With Julia is enigmatic hottie - Cayne, who has his own score to settle with the half-demon, and who might be just as dangerous as the creature he and Julia hunt.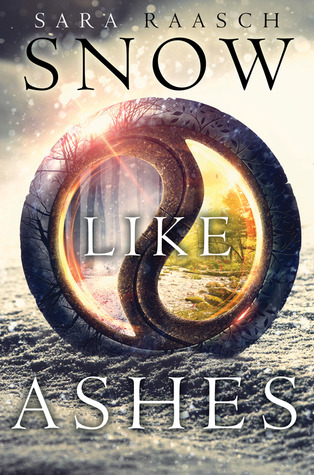 Snow Like Ashes by Sara Raasch (Snow Like Ashes Series)
Sixteen years ago the Kingdom of Winter was conquered and its citizens enslaved, leaving them without magic or a monarch. Now, the Winterians' only hope for freedom is the eight survivors who managed to escape, and who have been waiting for the opportunity to steal back Winter's magic and rebuild the kingdom ever since.
Orphaned as an infant during Winter's defeat, Meira has lived her whole life as a refugee, raised by the Winterians' general, Sir. Training to be a warrior—and desperately in love with her best friend, and future king, Mather — she would do anything to help her kingdom rise to power again.
So when scouts discover the location of the ancient locket that can restore Winter's magic, Meira decides to go after it herself. Finally, she's scaling towers, fighting enemy soldiers, and serving her kingdom just as she's always dreamed she would. But the mission doesn't go as planned, and Meira soon finds herself thrust into a world of evil magic and dangerous politics – and ultimately comes to realize that her destiny is not, never has been, her own.
Have you read any of these?
What's on your list?