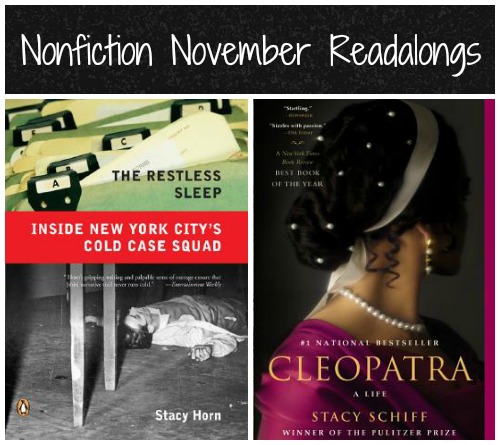 A few weeks ago we had you vote on the book you would most like to read for the readalong for Nonfiction November this year. Cleopatra: A Life by Stacy Schiff and The Restless Sleep by Stacy Horn were the two favorites in the poll. My co-hosts,
Kim
,
Katie
, and
Leslie
, and I agreed that it would be awesome to let you guys decide between the both of them! Why have just one readalong, when you can have two?
So Kim and Leslie are going to be hosting the readalong for The Restless Sleep, and Katie and I will be hosting the readalong for Cleopatra: A Life. You can choose whichever readalong you like!
We will be having our discussion, along with link-ups, on the readalong books on Wednesday, November 19th.
Before that though, feel free to chat about the books on Twitter using the hashtag #nonficnov.
The readalong is not a requirement to participate in Nonfiction November. We will also have weekly discussion topics, too. I am also really excited about these! I think it will be a really fun celebration and I hope you will join us!