The Travel the World in Books Readathon is well under way and I am enjoying it a lot! The participants are introducing me to all kinds of new books full of diversity.
During the readathon I want to share with you some of my favorite books that have had me traveling around the world from the comfort of my own home.
Today I thought I would do something a little different and share 3 books that take place Down Under, that are on my TBR List.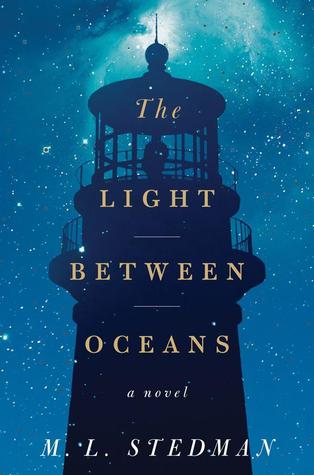 The Light Between Oceans by M.L. Stedman
After four harrowing years on the Western Front, Tom Sherbourne returns to Australia and takes a job as the lighthouse keeper on Janus Rock, nearly half a day's journey from the coast. To this isolated island, where the supply boat comes once a season and shore leaves are granted every other year at best, Tom brings a young, bold, and loving wife, Isabel. Years later, after two miscarriages and one stillbirth, the grieving Isabel hears a baby's cries on the wind. A boat has washed up onshore carrying a dead man and a living baby.
Tom, whose records as a lighthouse keeper are meticulous and whose moral principles have withstood a horrific war, wants to report the man and infant immediately. But Isabel has taken the tiny baby to her breast. Against Tom's judgment, they claim her as their own and name her Lucy. When she is two, Tom and Isabel return to the mainland and are reminded that there are other people in the world. Their choice has devastated one of them.
M. L. Stedman's mesmerizing, beautifully written novel seduces us into accommodating Isabel's decision to keep this "gift from God." And we are swept into a story about extraordinarily compelling characters seeking to find their North Star in a world where there is no right answer, where justice for one person is another's tragic loss.
The Bone People by Keri Hulme
SYNOPSIS:
In a tower on the New Zealand sea lives Kerewin Holmes, part Maori, part European, an artist estranged from her art, a woman in exile from her family. One night her solitude is disrupted by a visitor—a speechless, mercurial boy named Simon, who tries to steal from her and then repays her with his most precious possession. As Kerewin succumbs to Simon's feral charm, she also falls under the spell of his Maori foster father Joe, who rescued the boy from a shipwreck and now treats him with an unsettling mixture of tenderness and brutality. Out of this unorthodox trinity Keri Hulme has created what is at once a mystery, a love story, and an ambitious exploration of the zone where Maori and European New Zealand meet, clash, and sometimes merge. Winner of both a Booker Prize and Pegasus Prize for Literature,
The Bone People
is a work of unfettered wordplay and mesmerizing emotional complexity.
In the Frame by Dick Francis (a rec from Tasha)
Charles Todd—a renowned painter of horses—is shocked when he turns up at his cousin Donald's house for a weekend visit to find his cousin's young wife dead on the floor—and Donald the police's prime suspect. Determined to prove Donald's innocence, Todd trails a set of clues from England to Australia to New Zealand, only to realize that someone is trailing him. Someone with every intention of taking him out of the picture for good…
Beside a Burning Sea by John Shors
SYNOPSIS:
One moment, the World War II hospital ship Benevolence is patrolling the South Pacific on a mission of mercy—to save wounded American soldiers. The next, Benevolence is split in two by a torpedo, killing almost everyone on board. A small band of survivors, including an injured Japanese soldier and a young American nurse whom he saves from drowning, makes it to the deserted shore of a nearby island.
Akira has suffered five years of bloodshed and horror fighting for the Japanese empire. Now, surrounded by enemies he is supposed to hate, he instead finds solace in their company—and rediscovers his love of poetry. While sharing the mystery and beauty of this passion with Annie, the captivating but tormented woman he rescued, Akira grapples with the pain of his past while helping Annie uncover the promise of her future. Meanwhile, the remaining castaways endure a world not of their making—a world as barbaric as it is beautiful, as hateful as it is loving.
With the blend of epic storytelling and emotional intensity that distinguishes him as a unique talent, John Shors reveals a powerful story of redemption focusing on unlikely lovers, heroes and villains, and war-torn countries—all, in their own ways, fighting to survive.
Also, I asked my good friend, Mandy, who lives in Australia to recommend to me some books about Indigenous Australians and she sent me a link to a page that she says has lots of good recs included! See them here.
Looking for more books set in Australia, New Zealand, and the South Pacific?
Check out my relevant Take Me Away Posts: