These quotes by famous women authors are proof positive that men hardly have the market cornered on lyrical prose, meaningful words, beautiful poetry, intelligent deductions, or clever wit.
"Stop wearing your wishbone where your backbone ought to be."
―
Elizabeth Gilbert
,
Eat, Pray, Love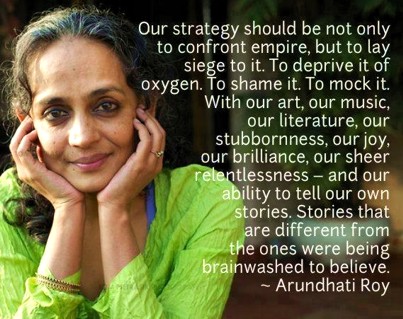 "Beware; for I am fearless, and therefore powerful."
―
Mary Shelley
,
Frankenstein
"One time I saw a tiny Joshua tree sapling growing not too far from the old tree. I
wanted to dig it up and replant it near our house. I told Mom that I would protect it from the wind
and water it every day so that it could grow nice and tall and straight.
Mom frowned at me. "You'd be destroying what makes it special," she said.
"It's the Joshua tree's struggle that gives it its beauty."
―
Jeannette Walls
,
The Glass Castle: A Memoir
"The regime had understood that one person leaving her house while asking herself:
Are my trousers long enough?'
Is my veil in place?'
Can my make-up be seen?'
Are they going to whip me?'
No longer asks herself:
Where is my freedom of thought?'
Where is my freedom of speech?'
My life, is it livable?'
What's going on in the political prisons?"
―
Marjane Satrapi
,
The Complete Persepolis
"I cannot fix on the hour, or the spot, or the look or the words, which laid the foundation. It is too long ago. I was in the middle before I knew that I had begun."
―
Jane Austen
,
Pride and Prejudice
"Politeness is deception in pretty packaging."
―
Veronica Roth
,
Divergent
"I am old enough to know only too well my good and bad qualities, which were often one in the same."
―
Lisa See
,
Snow Flower and the Secret Fan
"You have to know what you stand for, not just what you stand against."
―
Laurie Halse Anderson
,
Speak
"In youth, it was a way I had,
To do my best to please.
And change, with every passing lad
To suit his theories.
But now I know the things I know
And do the things I do,
And if you do not like me so,
To hell, my love, with you."
―
Dorothy Parker
,
The Complete Poems of Dorothy Parker
from A Lighthouse of Words on Tumblr
"He may well speak French and Latin and half a dozen languages, but since he has nothing to say – what good are they?"
―
Philippa Gregory
,
The Constant Princess