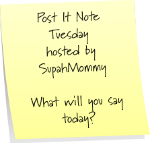 I saw this over at Jenner's blog,
Life with a Little One and More
, last week and decided I just HAD to play. I mean, POST-ITS, people!
Here
is my post from last Tuesday.
If you would like to play, head over to
Supah Mommy
, where you will get the directions and can link up via Mr. Linky.
*

Brought to you by the inner brain child of Becca.